The complexity of the ecosystem that has been created, is depicted in the following schema, with the interconnections of Nodes, Departments, Institutes, Units and Activities with the provided services to them.
Κ1 GRNET
Κ1 ΟΤΕ Academy
Κ3 NMO – National Medicine Organization
Κ4HELMOS
Δ1 Administrative Department – GEL
Δ2 Technical Department

Ι1 Informatics & Telecommunications
Ι2 Biosciences & Applications
Ι3 Nuclear & Radiological Sciences & Technology, Energy & Safety
Ι4 Nanoscience & Nanotechnology
Ι5 Nuclear & Particle Physics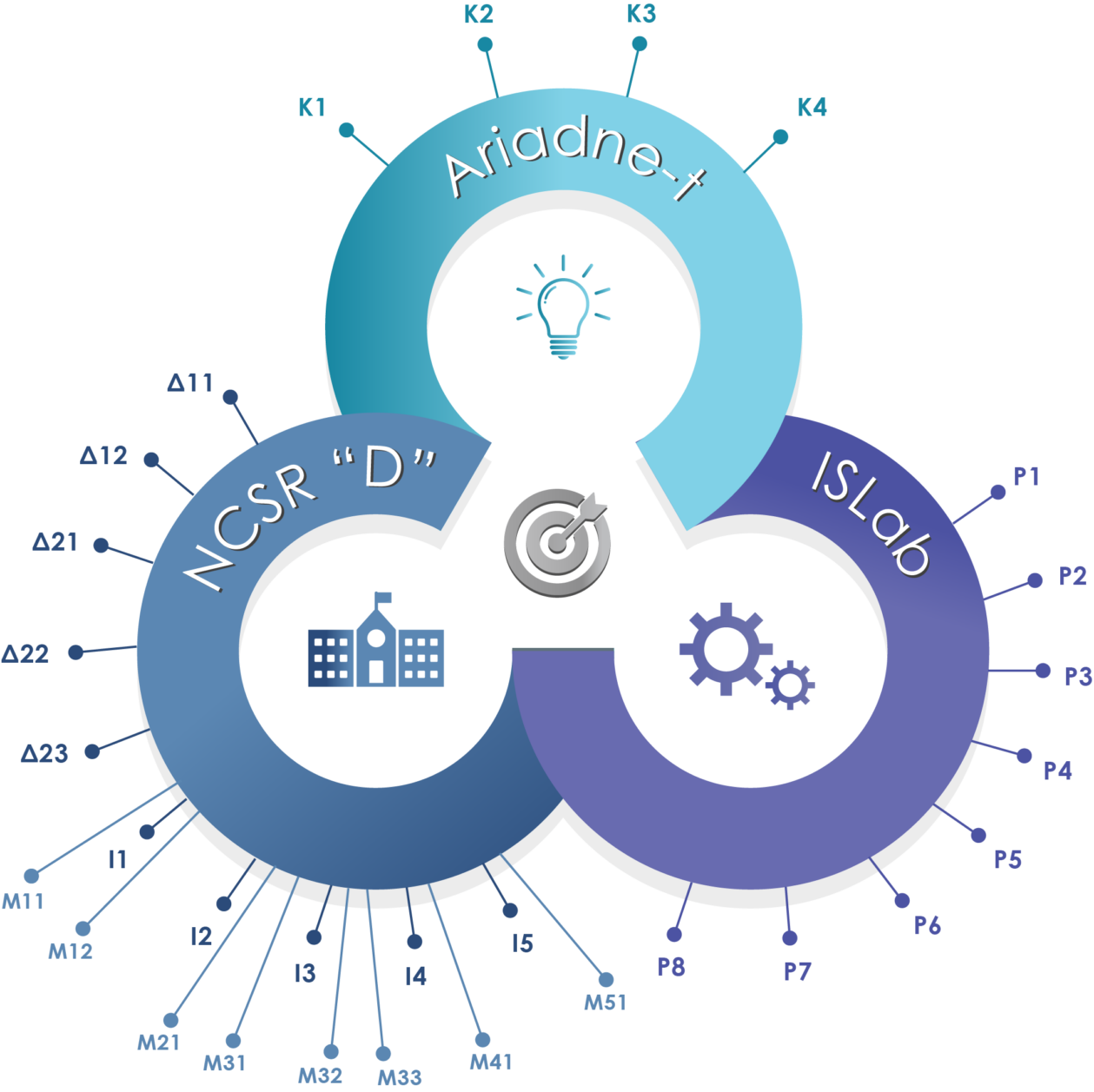 Δ11 Technological Park
Δ12 Guest Rooms
Δ21 Library
Δ22 Net Media Lab
Δ23 Electronics
Μ11 Microelectronics
Μ12 5G
Μ21 Biology
Μ31 Radioisotopes &
Radiognostic Products
Μ32 Dioxines
Μ33 Hydrogen
Μ41 Material Science
Μ51 Nuclear Physics

Ρ1 Net Lab
Ρ2 Cyber Security
Ρ3 Open Source SDDC
Ρ4 SDN/NFV
Ρ5 ISLab R&D
Ρ6 Internet Systematics Network
Theory
Ρ7 Smart Networks
Ρ8 Edge Computing
Overall operation support for K3 & managed security services

Consulting & Implementation

Certificate services & security consulting services

Services & technology transfer training

Infrastructure development
2nd level support to Campus' Network Admins

Campus Network Infrastructure Development

Consulting & Implementation

Certificate services & security consulting services

Technology transfer services and training

Collaboration in projects (research laboratories)
The Network Operations Center of NCSR "D" is active in the following fields: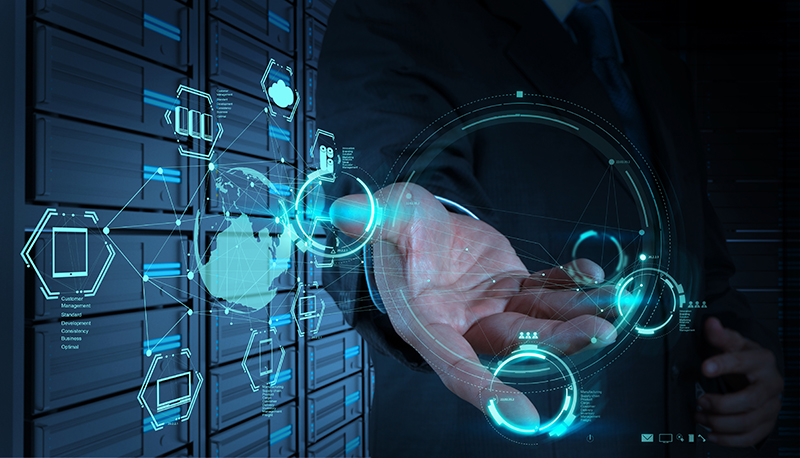 Data Center Softwarization
This activity uses cutting edge Open Source technologies with the aim of digitizing the Data Center. Utilizing technologies such as Virtualization, Software Defined Networks, Network Functions Virtualization, Distributed Storage solutions, Network Managing Systems and many more.
Internet Technology Features
This activity started at the time of the beginning of experimentation with the first networking technologies in 1986. Based on UNIX (system V, telmat sm90, bull sps7), Χ.25 (telefile) and Baseband 9600 Alcatel modems as well as a borrowed 300bps modem from the University of Bradford, the deployment and providing of internet services begun.
Technologies such as X.25, X.400, RFC987 gateways, IPoverX.25, TCP/IP, ATM over Satellite , IP-over-Satellite as well as several(*) others were tested, assimilated and disseminated to the wider technology community.
A large number of executives started off here. They aimed at becoming Network Administrators, Network Designers and Network Consultants, and now they are working in the industry in various public and private sector organizations.
(*) The range includes classic programming tools (PERL, TCL/TK, PYTHON, JAVASCRIPT, mySQL/PHP) to data collectors (HARVEST, ALEXA) but also the recent tools Network Scanner, Network Signature Analyser.
In the context of our R&D lab and the thirst for Knowledge, new technologies are found and utilized that can be implemented in the existing infrastructure. With the new technologies that are constantly appearing, our many years of experience in the industry makes it easier to separate and select these technologies that can be a new arrow in our quiver. With the IT and Internet industry being the example for the need of Lifelong Learning, our team adapts accordingly and has the appropriate spaces for the evolution of our members in new technologies.
The NOC work environment and its R&D lab have been developed based on the idea of how to make learning systematic in order to solve a number of problems we have encountered in the long run with Internet and Operating System technologies.
Key points

Discovery and creation of Knowledge (related to tools/skills) and constantly expanding.
Recording and communication of Knowledge.
Accumulation of Knowledge over time.
Escalation of Knowledge.



Basic Idea
Creation of a learning object on the learning process during the internship/diploma internship by applying the principle of solidarity from the Free Software.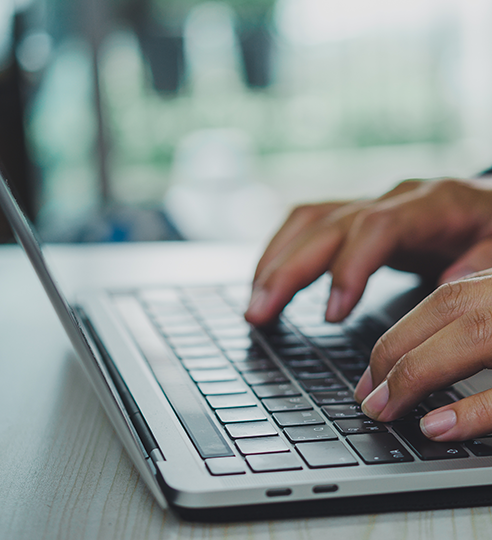 Digital Skills Methodology
Within the 15 years of experience in the field of Information Technology and Telecommunications, integrated solutions were designed and developed for both the Telecommunications sector (ΟΤΕ-ΝΕΤ), Shipping (SUPERFAST FERRIES), Information (Public Sector, ICAP, Pouliadis AEBE), Research (European Programs at NCSR D and Universities) and recently the Digital Transformation of Organizations (ΟΒΙ) with the modern methodology of BPMN and CLOUD NATIVE application deployment and implementation as well as Software Defined Data Center (SDDC) technologies for the development and training of the executives of a modern data center and its services (NMO, ESPA ΙΙ&Τ Syntelesis IoT Cloud)
Internet Systems Development
We have a firm focus on Security and Open Source Software. The Network Operating Center environment as well as the R&D office for creating and communicating knowledge about Internet security is in itself an infrastructure for creating a "Knowledge Community". Organizations and Scientists or Technicians with similar interests can contact us for more and collaboration: info@noc.demokritos.gr
The educational as well as the training facets of our training comes in the form of on-the-job-training. It has been an important axis of the our team with pioneering in the selection of objects due to the international collaborations that have been developed. Original dissertations were performed and have set an example for academic and research institutions. Previous collaborators and students are now in key positions in the field of Internet technologies in important organizations.